En décembre, j'ai gagné le premier prix pour le challenge sur le blog de
Berry 71 Bleu
. En plus d'un prix offert par 13@rts, j'ai la chance d'être Guest Dt pour le moodbard de janvier.
In December, I won the first prize for the challenge on the blog of
Berry 71 Bleu
. In addition to a prize offered by 13 @ rts, I am lucky to be Guest Dt for the January moodbard.
Voici le magnifique moodboard de janvier. Vous pouvez voir les magnifiques créations de l'équipe créative juste
ici
!
Here is the wonderful moodboard of January. You can see the creative creations of the creative team right
here
!
Voici ma page! Je dois vous avouez qu'au départ, j'étais vraiment incertaine du combo-couleurs, le orange me faisait un peu peur! Finalement, J'aime beaucoup ma page! Bien sûre, je me suis inspiré des couleurs, des fleurs mais aussi des plumes, quelques choses que j'utilise habituellement très peu sur mes pages!

Here is my layout! I must admit that at first, I was really uncertain of the combo-colors, the orange made me a little scared! Finally, I like my page a lot! Of course, I was inspired by colors, flowers but also feathers, a few things that I usually use very little on my pages!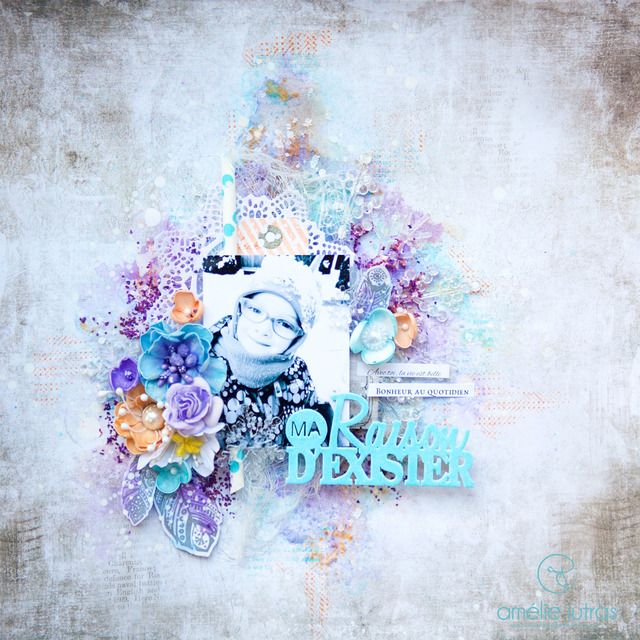 J'ai débuter ma page avec un papier de la compagnie 7Dots Studio, sur lequel j'ai appliqué une couche de gesso transparent. Je voulais ajouter de la texture, mais je voulais faire changement et utiliser autre chose que la pâte texturante. J'ai alors utiliser de la "Texture Paste White Sand" de Prima Marketing, une pâte avec tout plein de petits grains de sable à l'intérieur. Pour la couleur, j'ai utilisé les encres "Tilt-a-Wheel Teal" et "Frenchy's Pink Pouf" de Lindy's Stamp Gang. Pour compléter mon fond, j'ai ajouté 2 étampes dans le "Fond 3" de MC Collection.
I started my layout with a 7Dots Studio paper, on which I applied a layer of clear gesso. I wanted to add some texture, but I wanted to change and use something other than modelling paste. I then use the "Texture Paste White Sand" from Prima Marketing, a paste with all sorts of small grains of sand inside. For the color I used the "Tilt-a-Wheel Teal" and "Frenchy's Pink Pouf" from Lindy's Stamp Gang. To complete my background, I added 2 stamps in the "Fond 3" of MC Collection.
Par la suite, j'ai ajouté un gros flocon de neige provenant du magasin d'escompte et j'ai jouer avec quelques épaisseurs de papiers. J'ai utiliser une découpe de die de Prima Marketing, une étiquette de 7Dots Studio, une paille en papier ainsi que du coton fromage que j'ai étiré.
Subsequently, I added a large snowflake from the discount store and played with a few layers of paper. I used a die cut from Prima Marketing, a label from 7Dots Studio, a paper straw as well as cheesecloth that I stretched.
Afin de faire un rappel avec le moodboard, j'ai utiliser les étampes et dies de Kaiser Craft en forme de plume. J'ai étampé le motif sur un carton blanc ordinaire et j'ai ensuite, à l'aide d'un pinceau ajouté les mêmes couleurs d'encre utilisé pour mon fond.
In order to make a reminder with the moodboard, I use the stamps and dies of Kaiser Craft in the form of feather. I stamped the pattern on an ordinary white cardboard and then, using an added brush, the same ink colors used for my background.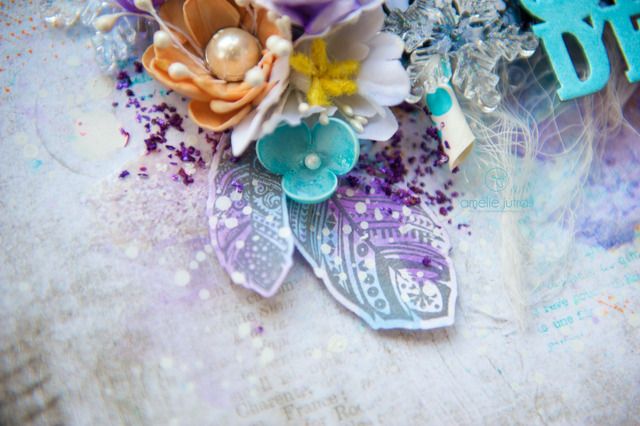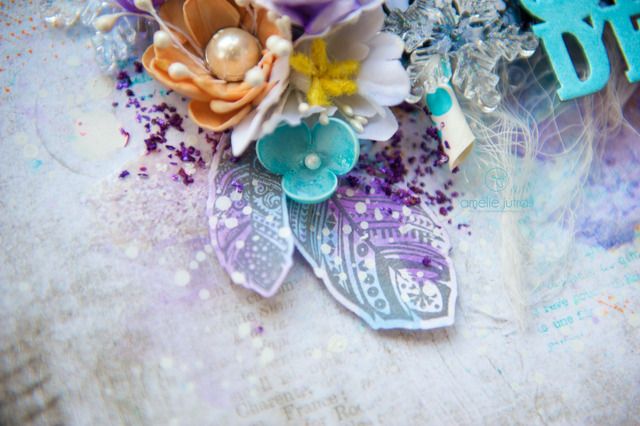 Pour terminé, j'ai ajouté quelques fleurs, la majorité faite à la main, des mini flocons de neige provenant du magasin d'escompte sur lequel j'ai ajouté quelques brillants et finalement, quelques grains métalliques de Stampendous!.
To finish, I added some flowers, the majority made by hand, mini snowflakes from the discount store on which I added some shiny and finally, some metal grains of Stampendous !.
Pour mon titre,j'ai utilisé un chipboard sur lequel j'ai mis la poudre à embosser "Tilt-a-Wheel Teal" de Lindy's Stamp Gang.
For my title, I used a chipboard on which I put the "Tilt-a-Wheel Teal" embossing powder from Lindy's Stamp Gang.
Merci de votre visite!
Thank you for your visit!