Bonjour! Je vous présente aujourd'hui ma page pour le défi d'avril sur le blog de More Than Words. Un beau défi, en noir & blanc avec une touche d'une autre couleur. Nous devions aussi inclure le mot "Dream".
Hello! I present today my layout for the challenge of April on the blog of More Than Words. A beautiful challenge, in black & White with a touch of another color. We also had to include the word "Dream".
http://morethanwordschallenge.blogspot.ca/2017/04/april-2017-main-challenge-dream.html
Voici ma page:
Here is my page: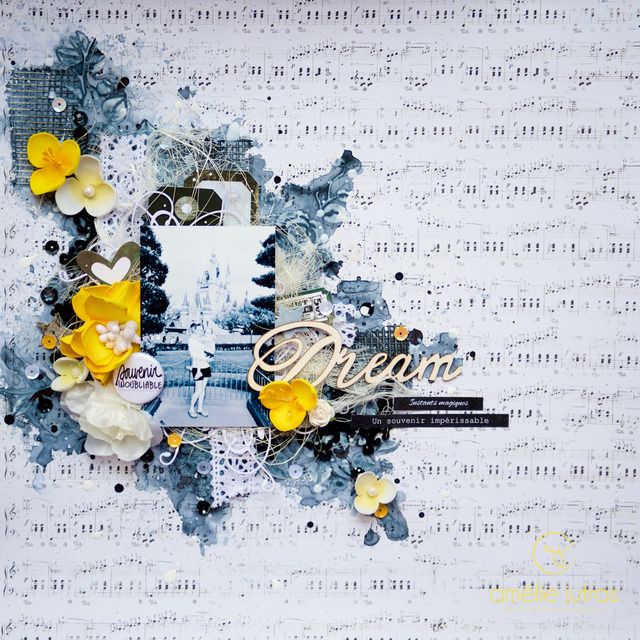 J'ai débuté ma page avec un papier de la collection Aria de 13@rts. J'ai ensuite appliqué une couche de gesso transparent. Avant d'ajouter du modeling paste à l'aide d'un stencil de Tim Holtz, j'ai collé à quelques endroits du ruban à joint. J'ai ensuite ajouté de l'encre noire à l'aide d'un pinceau aquarelle.
I started my layout with a paper from the Aria collection of 13 @rts. I then applied a layer of clear gesso. Before adding modeling paste using a Tim Holtz stencil, I glued to some places of the seam tape. I then added black ink using a watercolor brush.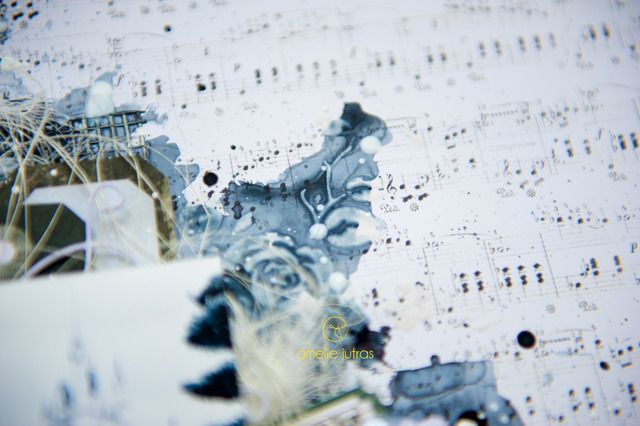 J'ai ensuite ajouté quelques bout de ruban de dentelle, un vieux bout de bande décorative en feutre de Prima Marketing, des tags de 7Dots Studio, 2 découpes de Memory box, du coton fromage et du sisal. J'ai aussi ajouté quelques diecuts de 7Dots Studio.
I then added a few pieces of lace ribbon, an old strip of decorative felt strip from Prima Marketing, 7Dots Studio tags, 2 Memory box cutouts, cheesecloth and sisal. I also added some diecuts from 7Dots Studio.
Pour terminer ma page, j'ai ajouté quelques fleurs en foam faites à la main, une fleur de 13@rts, quelques sequins et un badge de MC Collection.
To finish my layout, I added some handmade foam flowers, a 13 @rts flower, a few sequins and a MC Collection badge.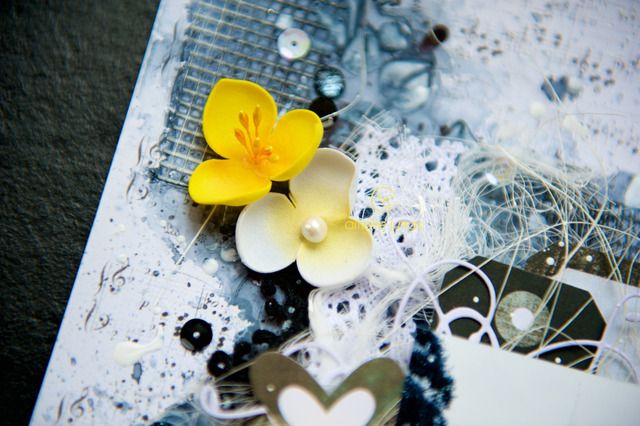 Pour mon titre, j'ai utilisé un chipboard en bois de 13@rts. J'ai aussi ajouté des autocollants de 123 Scrap.
For my title, I used a wood chipboard of 13 @rts. I also added 123 scrap stickers.