Bonjour! Ce mois-ci, je suis sur le blog de MC Collection pour vous présentez le défi du mois! Un beau défi, tout en noir et blanc, avec une légère touche de couleur!! En participant à ce défi, vous courez la chance de remporter de magnifiques produits!!
Hello!
This month, I'm on the MC Collection blog to present the challenge of the month!
A beautiful challenge, all in black and white, with a slight touch of color !!
By participating in this challenge, you have the chance to win great products !!
Voici ma page!
Here is my layout!
J'ai commencé ma page avec un papier de la collection "Writer's Block" de 7 Dots Studio. J'ai appliqué une couche de gesso épais à l'endroit où je voulais placer ma photo, papiers et ornements. J'ai ensuite jouer avec le magical powder "Blazing Black" de Lindy's Stamp Gang avec un pinceau. Une fois séché, j'ai utiliser l'étape de fond "Alphabet" de MC Collection avec de l'encre Archival ink "Jet Black" de Ranger. J'ai ensuite terminé mon fond en ajoutant des Arts Stones et Arts Stones Mini de Prima Marketing.
I started my layout with a paper from the "Writer's Block" collection of 7 Dots Studio.
I applied a layer of heavy gesso to where I wanted to place my photo, papers and ornaments.
I then play with the magical powder "Blazing Black" from Lindy's Stamp Gang with a brush.
Once dried, I use the "Fond Alphabet" stamp from MC Collection with Ranger's Archival ink "Jet Black" ink.
I then finished my background by adding Arts Stones and Arts Stones Mini from Prima Marketing.
J'ai ensuite ajouté 2 tags de 7 Dots, la matrice de découpe doilies de MC Collection (un gros coup de coeur pour moi, je suis littéralement en amour avec ce die!), un petit bout de dentelle, du Wire Thread de Prima Marketing, pour ensuite y ajouter ma photo!
I then added 2 tags of 7 Dots, MC Collection's doilies die (a big favorite for me, I'm literally in love with this die!), a little piece of lace, Wire Thread
from Prima Marketing, then add my photo!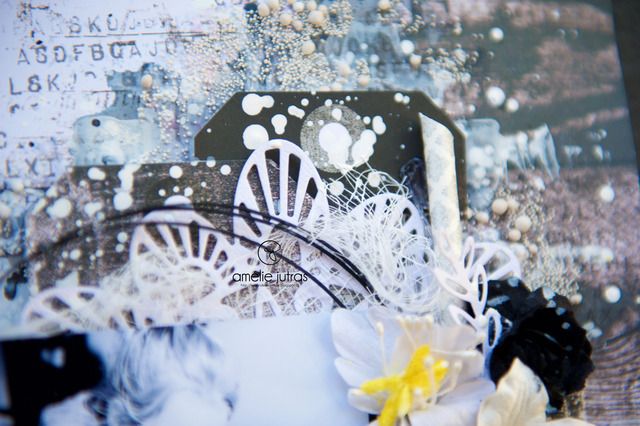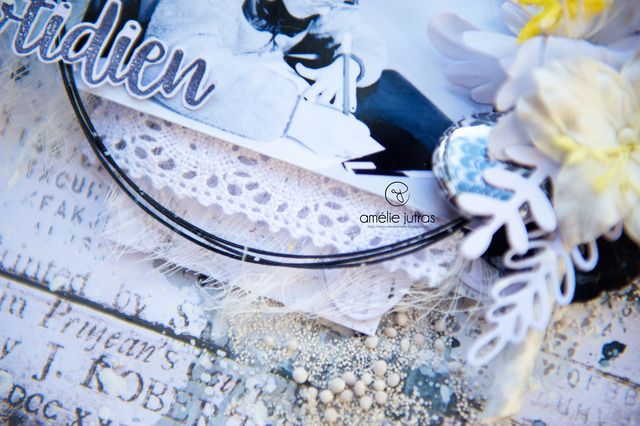 Finalement, j'ai terminé ma page en y ajoutant un badge MC Collection, une paille en papier et quelques fleurs. J'ai aussi utilisé les matrices de découpe "Petits feuillage" de MC Collection. Pour mon titre, j'ai utilisé l'étampe Moment du quotidien, toujours de MC Collection, que j'ai étampé avec de l'encre Archival "Jet Black" de Ranger.
Finally, I finished my layout by adding an MC Collection badge, a paper straw and some flowers.
I also used MC Collection's "Petits feuillages" dies.
For my title, I used the stamp "Moment du quotidien", still from MC Collection, which I stamped with Archival "Jet Black" ink.
Merci de votre visite!
Thank you for your visit!