Bonjour à tous! Je vous présente aujourd'hui ma création pour le challenge de février/mars sur le blog de Mixed Media & Art. C'est un peu à la dernière minute, mais mieux vaut tard que jamais! Je me suis laissé inspiré par le sketch, que j'ai légèrement modifié, ainsi que par le noir, les tons de rose et surtout, les paillettes!

Hello everyone! I present today my creation for the challenge of February / March on the blog of Mixed Media & Art. It's a bit late, but better late than never! I was inspired by the sketch, which I modified slightly, as by the black, the shades of rose and especially, the glitter!
http://mixedmediaandart.blogspot.ca/2017/02/february-challenge.html
Voici ma page!
Here is my page!
J'ai débuter ma page avec un papier de la collection "Rose Quartz" de Prima Marketing sur lequel j'ai mis une couche de gesso transparent. J'ai ensuite utilisé la technique que KareenBH à présenté lors de son live sur Facebook jeudi dernier. J'ai débuté par collé en tapon tout plein de vieux chipboards qui ne me servait plus. J'ai même ressorti du Grungeboard de Tim Holtz. Une fois mes chipboards placé, j'ai utilisé ma peinture Dylusion "Bubble gum Pink" de Ranger. Pour le rose pale, j'ai dilué un peu de peinture avec du gesso blanc. J'ai aussi ajouter du Color Bloom "Coton Candy" de Prima Marketing. une fois sec, j'ai utilisé l'encre en spray "Blazing Black" de Lindy's Stamp Gang que j'ai épongé légèrement, je recherchais un effet salissant. J'ai aussi utilisé le Color Bloom "Empress Gold" pour donner de la brillance. Avant de coller mes sequins, j'ai utilisé les poudres et flocon de Stampendous. Pour terminer mon fond, J'ai mélangé des billes et du gel medium que j'ai disposé à quelques endroits.

I started my layout with a paper from the collection "Rose Quartz" of Prima Marketing on which I put a layer of clear gesso. I then used the technique that KareenBH presented at her live on Facebook last Thursday. I started by stuck in heap full of old chipboards that no longer served me. I even came out of the Grungeboard by Tim Holtz. Once my chipboards were placed, I used my paint Dylusion "Bubble gum Pink" from Ranger. For the pale pink, I diluted a little paint with white gesso. I also add Color Bloom "Cotton Candy" from Prima Marketing. When I was dry, I used Lindy's Stamp Gang's "Blazing Black" spray ink that I sponged slightly, I was looking for a messy effect. I also used Color Bloom "Empress Gold" to give shine. Before sticking my sequins, I used Stampendous powders and flake. To finish my background, I mixed marbles and medium gel that I placed in some places.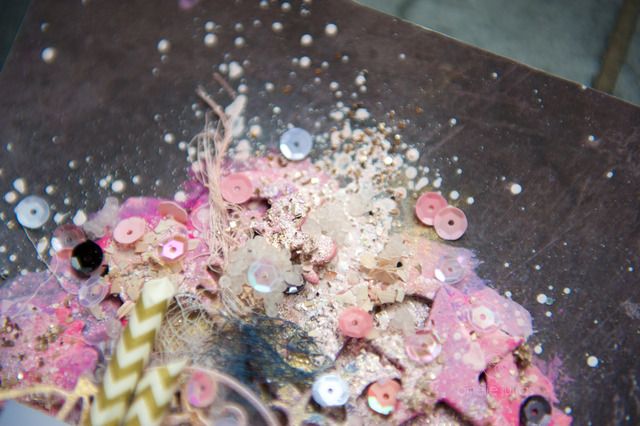 J'ai ensuite ajouté du coton fromage, une découpe du die de Prima Marketing, un bout de dentelle ainsi que des pailles en papier. J'ai aussi trouvé un vieux papillon doré qui dormait dans un bac d'ornement, il allait super bien sur ma page!

I then added cheesecloth, a die cut from Prima Marketing, a piece of lace and paper straws. I also found an old golden butterfly that slept in an ornamental tray, it went great on my page!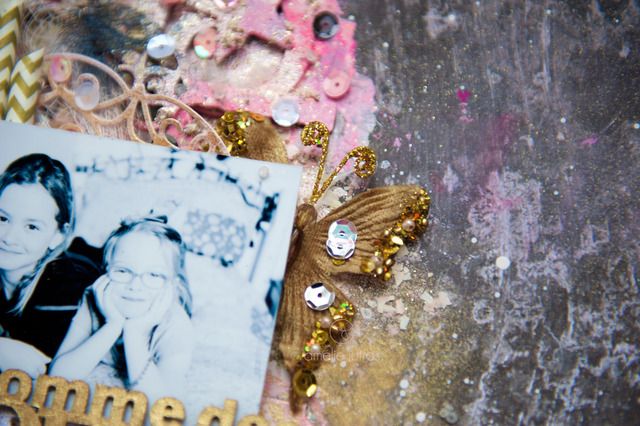 Pour finir, j'ai placé quelques fleurs faites à la main avec les nouvelles encres Color Phylosophy de Prima Marketing. our mon titre, j'ai utilisé un chipboard de la compagnie Les 2 Miss Scrapbooking.
Finally, I placed some handmade flowers with the new Color Phylosophy ink from Prima Marketing. For my title, I used a chipboard from the company Les 2 Miss Scrapbooking.
Merci de votre visite!

Thank you for your visit!