Bonjour! Hier, j'étais sur le blog de MC Collection avec ma première création de mars.
Hello! Yesterday I was on the MC Collection blog with my first creation in March.
J'ai débuter ma page avec un papier de 13@rts sur lequel j'ai appliquer une couche de gesso transparent. J'ai d'abord utilisé les étampes "Fond 03" et "Photos" avec de l'encre Archival "Jet Black". J'ai ensuite utilisé du Modeling paste avec le stencil "Brocade Lace" de Scrap FX. Une fois sec, j'ai utilisé les encres"Pastel Berry", "Pastel Pink", "Chalk Grey" et "Chalk Dirty Pink" de 13@rts.

I started my layout with a paper of 13 @rts on which I applied a layer of clear gesso. I first used the stamps "Fond 03" and "Photos" with ink Archival "Jet Black". I then used Modeling paste with the "Brocade Lace" stencil from Scrap FX. Once dry, I used the "Pastel Berry", "Pastel Pink", "Chalk Grey" and "Chalk Dirty Pink" inks from 13@rts.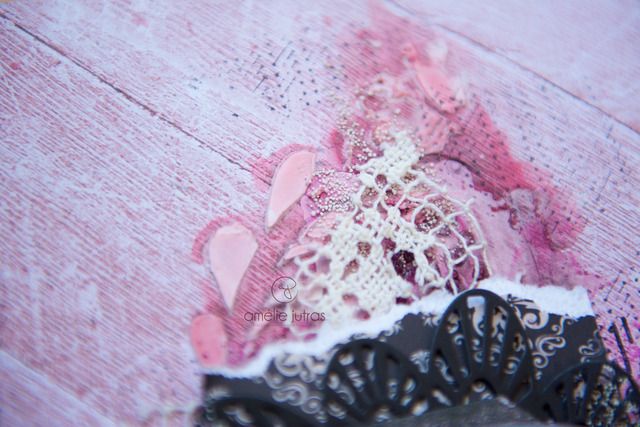 J'ai par la suite agencé une découpe de die "Doilies", un papier de Blue Fern Studio, un tag de 7Dots Studio et un bout de canvas de Prima Marketing sur lequel j'avais utilisé les mêmes encres que pour mon fond. Sous mes papiers, j'ai collé un bout d'un vieux napperon de dentelle.

I subsequently arranged a die cut of "Doilies", a Blue Fern Studio paper, a 7Dots Studio tag and a canvas tip from Prima Marketing on which I had used the same inks as my background. Under my papers, I glued a piece of an old doily lace.
J'ai terminé ma page en y ajoutant quelques fleurs, des découpes des dies "Feuillages" et "Mini Feuillages", un badge ainsi qu'un mot en acrylique.

I finished my page by adding some flowers, die cuts of the dies "Feuillages" and "Mini Feuillages", a badge as well as a word in acrylic.