Bonjour, aujourd'hui c'est la sortie des sketchs pour la 3e semaine du Carnaval du sketch sur la groupe Facebook de Scrapbook Tendance. Cette semaine, c'est moi qui présente le tableau d'inspiration que voici:
Hello, today is the release of the sketches for the 3rd week of the Carnival of the sketch on the Facebook group of Scrapbook Tendance. This week, I present the following table of inspiration:
Pour participer, vous devez inclure au moins deux éléments du tableau sur votre création. De mon côté, j'en ai inclu 4 sur 5, on pourrait même dire 5 (la citation) car au moment de prendre cette photo, je venais de terminer une sortie de course de 24km dans un froid sibérien et ça n'avait vraiment pas été facile, ils fallu que je me parle beaucoup pour terminer! Voici ma page:

To participate, you must include at least two elements on your creation. For my part, I included 4 out of 5, we could even say 5 (the quote) because when taking this picture, I had just finished a 24km race in a Siberian cold and it really did Not been easy, they had to talk to me a lot to finish! Here is my page: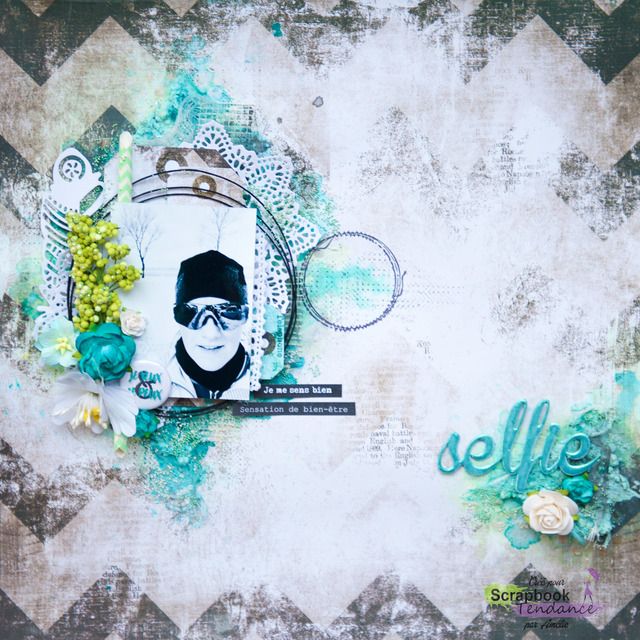 J'ai débuté ma page avec un papier de la collection "Coton Candy" de 7Dots Studio, sur lequel j'ai mis une couche de gesso transparent. Pour débuter mon fond de page, j,ai utilisé les étampes "Fond 03" de MC Collection ainsi que les ronds en couture de prima Marketing. J'ai ensuite fait un mélange de gesso épais et de Arts Stones de Prima Marketing que j'ai appliquer à quelques endroits sur ma page. Pour coloré mon mélange, j'ai utilisé les encres "Pearl Turquoise Light" de 13@rts et "Meppy-go-Round Green" de Lindy's Stamp Gang que j'ai appliqué à l'aide d'un pinceau aquarelle. J'ai ensuite déposé du coton fromage et du ruban à joints avant de laisser sécher.

I started my layout with a paper from the "Cotton Candy" collection of 7Dots Studio, on which I put a layer of clear gesso. To start my background, I used the "Fond 03" stamps from MC Collection as well as the Prima Marketing seams. I then made a mix of heavy gesso and Arts Stones Prima Marketing that I applied to some places on my page. For coloring my mixture, I used the "Pearl Turquoise Light" inks of 13 @rts and "Meppy-go-Round Green" from Lindy's Stamp Gang which I applied using a watercolor brush. I then deposited cheesecloth and seam tape before letting it dry.
Une fois sec, j'ai pu faire le montage de mes papiers. J'ai utilisé une découpe de die de Prima Marketing et des tags de 7Dots Studio. J'ai aussi utilisé mon nouveau die de découpe de Plume de MC Collection. Ce die fait partis de la nouvelle collection 2017. Il est magnifique n'est-ce pas?!!! Un petit bout de dentelle et du Wire Thread de prima Marketing sont venu compléter le "sous la photo"!

Once dry, I was able to edit my papers. I used a die cut from Prima Marketing and 7Dots Studio tags. I also used my new cutting die from MC Collection. This die is part of the new collection 2017. It is beautiful is not it? !!! A little piece of lace and the Wire Thread of Prima Marketing have come to complete the "under the photo"!
Pour terminé, j'ai disposer quelques fleurs, un badge de MC Collection, des autocollants de 123 Scrap ainsi qu'un chipboard de Les 2 Miss Scrapbooking que j'ai embosser avec la poudre "Desert Moon Turquoise" de Lindy's Stamp Gang. J'ai finis ma création en ajoutant des microbilles vertes et des Arts Stones Mini de Prima Marketing.

To finish, I have some flowers, a MC Collection badge, 123 scrap stickers and a chipboard of Les 2 Miss Scrapbooking that I emboss with the "Desert Moon Turquoise" powder from Lindy's Stamp Gang. I finished my creation by adding green microbeads and Arts Stones Mini from Prima Marketing.
Merci de votre passage!
Thanks for coming!