Bonjour! Aujourd'hui je suis sur le blog de Scrapbook Tendance, en compagnie de d'autres membres de l'équipe créative, pour vous présenter la liste à Manon de février. Pour connaître cette liste, rendez-vous sur le blog de
Scrapbook Tendance
!
Hello! Today I am on the blog of Scrapbook Tendance, along with other members of the creative team, to present the list to Manon of February. To know this list, go to the blog of
Scrapbook Tendance
!
Pour débuter ma page, j'ai d'abord appliqué une couche de gesso transparent sur toute ma page. J'ai ensuite fait un mélange de gesso épais et de Arts Stones de Prima Marketing, que j'ai déposé a quelques endroits. Avant de laissé sécher, j'ai colorer mon mélange avec de l'encre "Craked Pistachio" de Tim Holtz" ainsi que "Pastel Green" de 13@rts et j'ai placé du coton formage. Une fois sec, à l'aide de gel médium mat, j'ai collé des micro-billes de couleur turquoise ainsi que des flocons de Stampandous!.
To start my layoit, I first applied a layer of clear gesso on my entire page. I then made a mix of heavy gesso and Arts Stones from Prima Marketing, which I dropped off at some places. Before drying, I color the mixture with Tim Holtz "Craked Pistachio" ink and 13 @rts "Pastel Green" and placed cheesecloth. Once dry, using mat gel medium, I pasted turquoise-colored microbeads as well as Stampandous! flakes.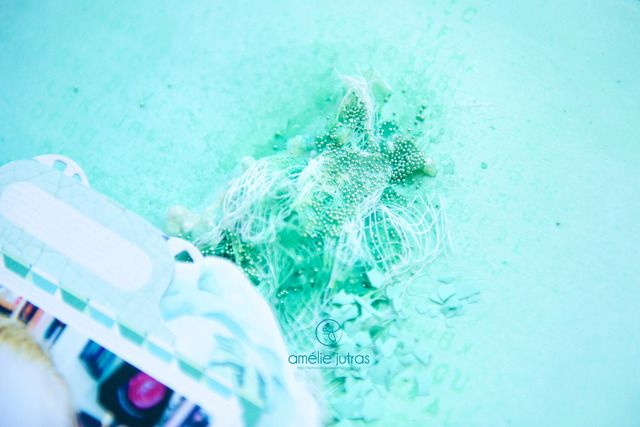 J'ai ensuite ajouté quelques papiers, une découpe doilies de MC Collection, des autocollants de Kaiser Craft et mon titre est un chipboard de la compagnie "Les 2 miss Scrapbooking" sur lequel j'ai mis de la poudre à embossée de Lindy's Stamp Gang.
I then added some papers, a doilies die cut from MC Collection, Kaiser Craft stickers and my title is a chipboard from the company "Les 2 Miss Scrapbooking" on which I put embossed powder from Lindy's Stamp Gang .
Pour terminer, comme ornements, j'ai utilisé un chipboard de Scrap FX que j'ai laissé au naturel. J'ai aussi utilisé une fleur blanche de Prima Marketing, ainsi que quelques fleurs faites à la main en mousse.
To finish, as ornaments, I used a chipboard of Scrap FX that I left to the natural. I also used a white flower from Prima Marketing, as well as some flowers made by hand in foamiran.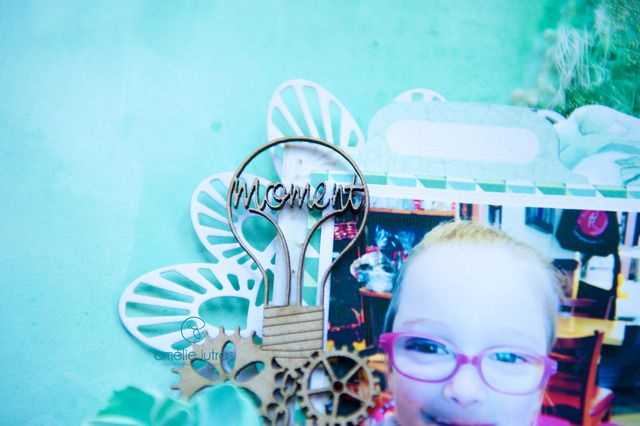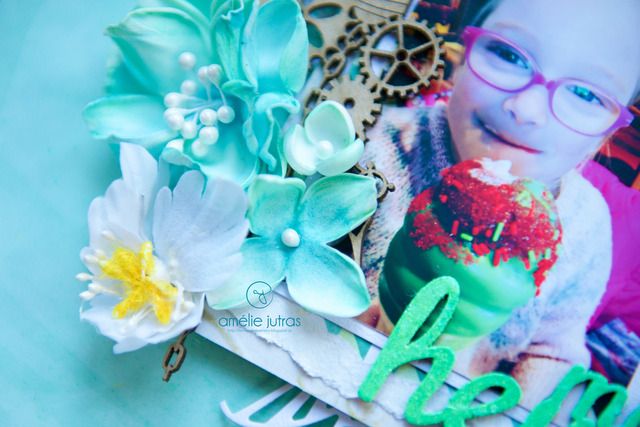 Merci de votre visite!
Thank you for your visit!