Bonjour! Aujourd'hui je suis sur le blog de Scrap FX pour vous présenter ma première creation de fevrier. Malheureusement, je n'ai pas encore reçu les nouveaux produits, j'ai du utiliser ceux que j'avais déjà en main.
Hello! Today I am on the blog of Scrap FX to present my first creation of February. Unfortunately, I have not yet received the new products, I had to use the ones I already had.
Voici ma page! Here is my layout!
J'ai tout d'abord commencé par appliquer une couche de gesso transparent sur tout mon papier de fond. Ensuite, avec le stencil "Brick", j'ai appliquer du gesso épais. Une fois sec, j'ai utilisé des encres de 13 @rts et magical powder de Lindy's Stamp Gang pour créer l'effet aquarelle. Une fois terminé, j'ai utilisé une étampe MC Collection avec de l'encre.


I first started by applying a layer of clear gesso on all my background paper. Then, with the stencil "Brick", I applied heavy gesso. Once dry, I used 13 @rts inks and magical powder from Lindy's Stamp Gang to create the watercolor effect. When finished, I used an MC Collection Stamp with ink.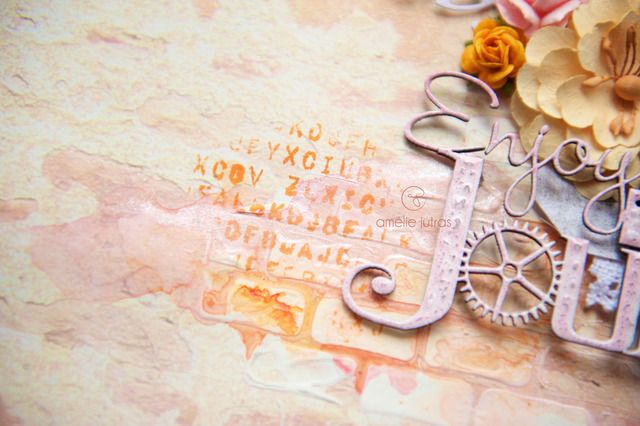 J'ai ensuite utilisé quelques papiers, une découpe doilies de MC Collection, quelques tags de 7Dots Studio, de la dentelle, le chipboard "Chicken wire" de Scrap FX ainsi que du Cotton fromage sous ma photo. Pour mon titre, j'ai utilisé le chipboard "Enjoy the Journey" avec de la poudre a embosser.


I then used a few papers, a doilies cut from MC Collection, some 7Dots Studio tags, lace, "Chicken wire" chipboard from Scrap FX as well as cheesecloth under my photo. For my title, I used the chipboard "Enjoy the Journey" with embossing powder.
Finalement, comme ornements, j'ai disposer quelques fleurs sur ma creation, ainsi que les découpes "Mini feuillage" de MC Collection.
Finally, as ornaments, I have some flowers on my creation, as well as the "Mini Foliage" cuts from MC Collection.
Merci de votre visite!


Thank you for your visit!