Bonjour! Aujourd'hui, je vous présente la page que j'ai fait pour le moodboard de Berry71bleu. J'aime beaucoup la douceur de ce moodboard, les couleurs pâles et les petites billes argentées! Ça m'a tout de suite inspiré! Voici ce très beau moodboard!
Hello! Today, I present the page that I made for the moodboard of Berry71bleu. I love the softness of this moodboard, the pale colors and the small silver balls! It immediately inspired me! Here is this beautiful moodboard!
http://berry71bleu.blogspot.ca/2016/12/winter-wonderland.html

Et voici ma page. J'ai débuté avec un papier aquarelle sur lequel j'ai ajouté 3 couleurs d'encre au pinceau, mélangé avec de l'eau, "Ocean Breeze Blue", "Pop Rock Purple" et "Silent Night Silver" de Lindy's Stamp Gang. J'ai laissé sécher naturellement afin d'éviter les taches.
And here is my layout. I started with a watercolor paper on which I added 3 colors of brush ink, mixed with water, "Ocean Breeze Blue", "Pop Rock Purple" and "Silent Night Silver" by Lindy's Stamp Gang . I let it dry naturally to avoid stains.
À l'aide du stencil "Fluttering Flower" de Prima Marketing, j'ai apposé à quelques endroit de la Glitter paste de Bo Bunny. Je n'ai pas utilisé de papier sur cette création. J'ai plutôt jouer avec des retailles de dentelles qui traînaient, une découpe d'un die de Prima Marking, un tag et 2 pailles en papier. J'ai aussi utilisé un die de flocon de la compagnie Lime Citron.
Using the stencil "Fluttering Flower" from Prima Marketing, I affixed a few places to the Glitter paste of Bo Bunny. I did not use any paper on this creation. I rather play with scraps of laces that dragged, a cut of a die of Prima Marking, a tag and 2 paper straws. I also used a snowflake die from the Lime Citron Company.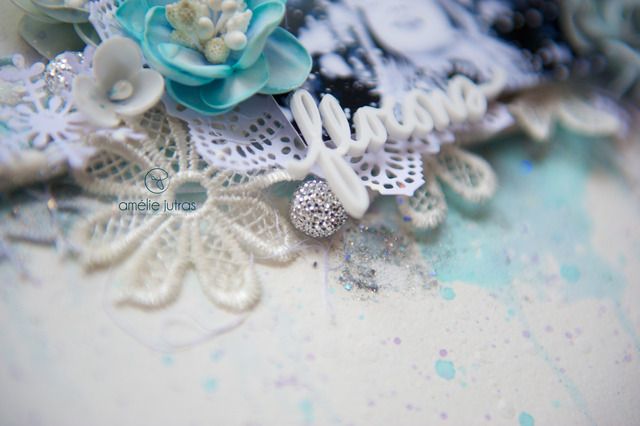 Pour terminer, j'ai ajouter de la ficelle blanche, des fleurs faites à la main et une poudre brillante de Stampendous!. Avec les mêmes encres utilisés pour faire mon fond, j'ai fait quelques gouttelettes par-ci par-là! J'ai aussi utilisé un mot en acrylique de la compagnie MC Collection.