Bonjour à tous! Aujourd'hui je suis sur le blog de Scrapbook Tendance pour vous présenter le dernier post de l'année. Je devais travailler sur la fameuse "Liste à Manon". Comme consigne supplémentaire, nous devions ajouter de la dentelle. Pour connaître toute la liste, rendez-vous
ici
!
Hello everyone! Today I am on the blog of Scrapbook Tendance to present you the latest post of the year. I had to work on the famous "List in Manon". As an additional instruction we had to add lace. To know the whole list, go
here
!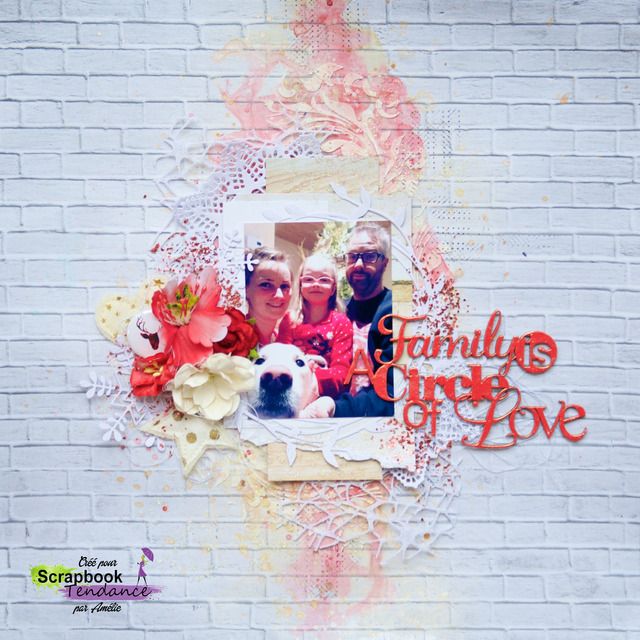 Pour débuter ma page, j'ai utiliser un papier que j'aime beaucoup, "White Brick Wall" de Ella & Viv Paper Company. J'ai appliquer une couche de gesso transparent sur tout le papier. J'ai ensuite jouer avec les encres "Rudolph's Nose Red et "Clam Bake Beige" de Lindy's Stamp Gang avec un pinceau. Avec un stencil, j'ai appliquer de la pâte texturante ainsi que de la Glitter Paste de Bo Bunny.
To start my layout, I use a paper that I like very much, "White Brick Wall" of Ella & Viv Paper Company. I applied a layer of clear gesso on all the paper. Then I play with "Rudolph's Nose Red" and "Clam Bake Beige" from Lindy's Stamp Gang with a brush. With a stencil, I apply the modeling paste as well as the Glitter Paste from Bo Bunny.
Sur mon chipboard de la compagnie Scrap Fx, j'ai d'abord mis une couche de gesso blanc pour ensuite utiliser la poudre à embosser "holly Berry Red Gold" de Lindy's Stamp Gang.
On my chipboard of the company Scrap Fx, I first put a layer of white gesso and then use the "Holly Berry Red Gold" embossing powder from Lindy's Stamp Gang.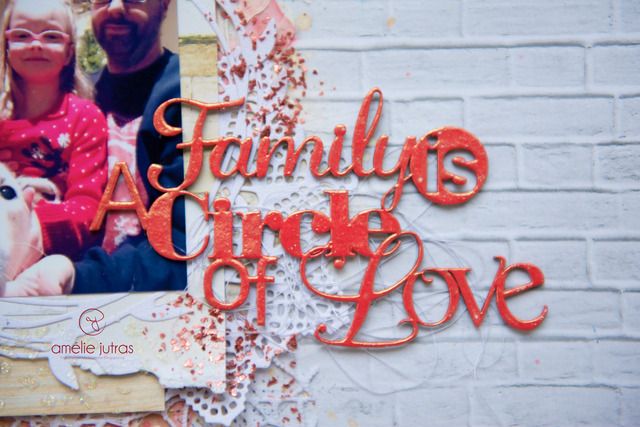 Après avoir placé mes papiers, j'ai ajouté quelques découpes faites avec les dies de Prima Marketing et Spellbinder. J'ai aussi ajouter quelques bouts de dentelle qui trainait sur mon bureau!
After placing my papers, I added some die cuts made with the dies of Prima Marketing and Spellbinder. I also add some bits of lace that hung on my desk!
Pour terminer, j'ai ajouté des fleurs, de la ficelle blanche, un badge de la compagnie MC Collection, des découpes de flocon de neige de la compagnie Lime Citron ainsi que 2 ornements de feutrine fait par la compagnie québécoise Scrap & Fimo. J'ai aussi appliquer, avec du gel médium de la petite limaille de fer rouge (ce n'est pas vraiment de la limaille de fer, mais ça y ressemble beaucoup et je ne c'est pas vraiment c'est quoi!) de Stampendous!
Finally, I added flowers, white string, a badge from MC Collection, snowflake die cuts from Lime Citron and 2 felt ornaments made by the Quebec company Scrap & Fimo. I also apply, with the medium gel of small iron filings (it is not really iron filings, but it looks like a lot and I do not really what it is!) Of Stampendous!
J'espère que vous avez apprécié! Merci de votre visite! J'en profite pour vous souhaiter une magnifique année 2017. Santé, bonheur et Scrapbooking!
I hope you enjoyed! Thank you for your visit! I take this opportunity to wish you a wonderful year 2017. Health, happiness and Scrapbooking!