Bonjour! Je vous présente aujourd'hui ma page pour le moodboard sur le nouveau blog Mixed Media & Art. J'y ai découvert un blog super intéressant, avec une équipe du tonnerre!
Hello! I present today my layout for the moodboard on the new blog Mixed Media & Art. I discovered a blog interesting, with a team of thunder!
http://mixedmediaandart.blogspot.ca/2016/12/december-chalenge.html
Voici ma page! Clara fait partie depuis 2 ans de l'équipe de compétition du club de gymnastique de la ville. Elle adore ça! Nous avons assisté à sa première vraie compétition en novembre dernier!
Here is my layout! Clara has been part of the competition team of the gymnastics club of the city for 2 years. She loves that! We attended his first real competition last November!
Pour cette page, j'ai utiliser un papier aquarelle. J'ai ensuite ajouté des encre à l'aide d'un pinceau. J'ai utiliser "Meppy-go-Round Green" et "Tibetan Poppy Teal" de Lindy's Stamp Gang ainsi que "Chalk Indigo" de 13@rts. J'ai ensuite fait des gouttelettes avec le Color Bloom "Empress Gold" de Prima Marketing.
For this layout, I use a watercolor paper. I then added ink with a brush. I use "Meppy-go-Round Green" and "Tibetan Poppy Teal" from Lindy's Stamp Gang as well as "Chalk Indigo" from 13 @ rts. I then made droplets with Color Bloom "Empress Gold" from Prima Marketing.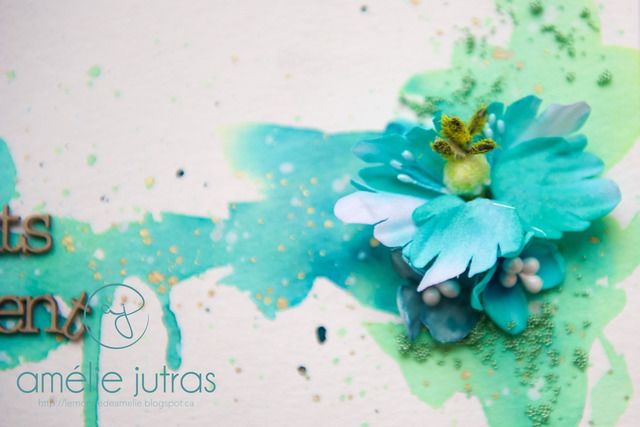 Par la suite, j'ai jouer avec les superpositions de papiers et d'acétate. J'ai utiliser le die "Embroidery Doily" de Prima Marketing.
Subsequently, I played with the overlays of papers and acetate. I use the "Embroidery Doily" die from Prima Marketing.
Pour terminer, j'ai utiliser quelques chipboards de la compagnie
Scrap FX
que j'ai laisser naturel. J'ai ajouté des micro billes à quelques endroits stratégiques! Et j'ai finalement ajouté des fleurs pour embellir ma page! Outre la fleur Prima Marketing, les petites fleurs sont faites de mes mains.
To finish, I use some chipboards from the company
Scrap FX
that I leave natural. I added micro beads at some strategic places! And I finally added flowers to embellish my page! Besides the flower Prima Marketing, small flowers are made from my hands.
Merci de votre visite!
Thank you for your visit!