Bonjour! Aujourd'hui, je vous présente une page faite avec le magnifique sketch d'avril sur la groupe Facebook de 13@rts ARTelier. Ce sketch m'a vraiment beaucoup inspiré! En plus de suivre le sketch, notre page devait être basée entre 80 à 90% de produits 13@rts. Voici le superbe sketch proposé!

Hello! Today, I present a layout made with the magnificent April sketch on the Facebook group of 13@rts ARTelier This sketch really inspired me! In addition to following the sketch, our layout had to be based between 80 to 90% of 13 @rts products. Here is the superb sketch proposed!
Et voici ma page! Que j'aime vraiment beaucoup parce n'est pas des couleurs que j'utilise habituellement!

And here is my layout! That I really like a lot because is not the colors I usually use!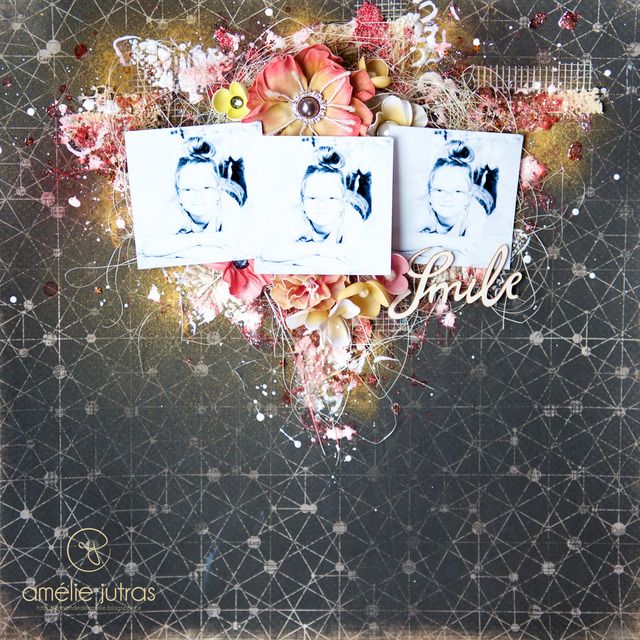 J'ai débuté ma page avec un papier de la collection His & Her sur lequel j'ai appliqué une couche de gesso transparent. Par la suite, j'ai collé à quelques endroits des morceaux de ruban à joint. J'ai ajouté aussi quelques bouts de ruban de dentelle. À l'aide du stencil "Butterflies", j'ai appliqué de la pâte texturante. J'ai ensuite ajouter un mélange de gel médium, d'Arts Stones Mini et d'encre "Chalk Dirty Pink. Pour ajouter un peu de couleurs, j'ai utilisé les encres "Pearl Old Gold", Chalk Dirty Pink" et "Chalk Grey" sur mon fond. Avant de laisser sécher, j'ai saupoudré des confettis "Brown Flowers Glitter", des "Natural Mika Flakes Silver" et des "Glass microspheres". Une fois sec, j'ai fait quelques gouttes de peinture "Pink Glitter" et "White".

I started my layout with a paper from the His & Her collection on which I applied a tlayer of clear gesso. Subsequently, I glued pieces of seam tape to some places. I also added a few pieces of lace ribbon. Using the stencil "Butterflies", I applied modelling paste. I added a mixture of medium gel, Arts Stones Mini and Chalk Dirty Pink ink. To add a bit of color, I used the "Pearl Old Gold", "Chalk Dirty Pink and" and "Chalk Gray" on my background. Before letting dry, I sprinkled confetti "Brown Flowers Glitter", "Natural Mika Flakes Silver" and "Glass microspheres". Once dry, I made a few drops of paint "Pink Glitter" and "White".
Ensuite, j'ai seulement ajouté du Sisal floral blanc sous mes photos ainsi que quelques fleurs en foamiran faite à la main!. Pour mon titre j'ai utilisé une découpe en bois de 13@rts.
Then I only added sisal floral white under my photos as well as some hand made foamiran flowers. For my title I used a wooden cut of 13 @rts.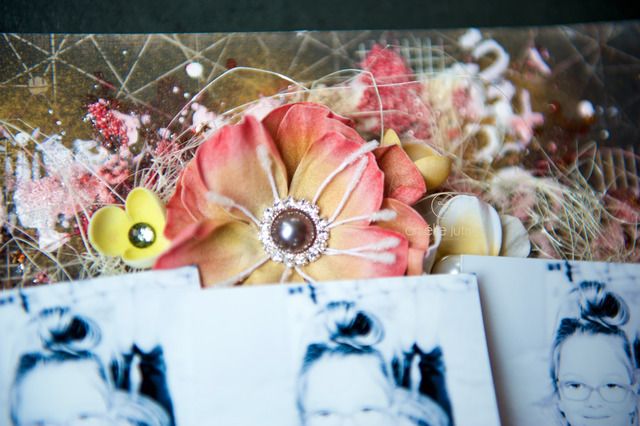 Merci de votre visite
Thank you for your visit