Bonjour!!!! L'automne dernier, mes collègues Marie-Claude, Mireille, Manon et moi même avons travaillé sur un kit de badges et découpes qui serait offert aux participantes de week-end crop à Victoriaville en novembre. Les participantes l'ont adoré! De mon côté, je n'avais pas encore eu l'occasion de m'en servir! Je vous avoue que je trouvais le kit vraiment trop beau, j'avais peur de ne pas être capable de l'utilisé à sa juste valeur! Finalement, j'ai pris mon courage à deux mains et j'ai enfin fait une page! Pour celles qui n'ont pu mettre la main sur ce magnifique kit, surveillez la page Facebook de pré-commande de Scrapbook Tendance, une belle surprise s'en vient!!!
Hello!!!! Last fall, my colleagues Marie-Claude, Mireille, Manon and I worked on a kit of badges and cuts that would be offered to the weekend participants in Victoriaville in November. The participants loved it! For my part, I had not yet had the opportunity to use it! I admit that I found the kit really too beautiful, I was afraid not to be able to use it at its true value! Finally, I took my courage with both hands and finally made one layout! For those who could not get their hands on this beautiful kit, watch the Facebook page of pre-order of Scrapbook Tendance, a beautiful surprise is coming !!!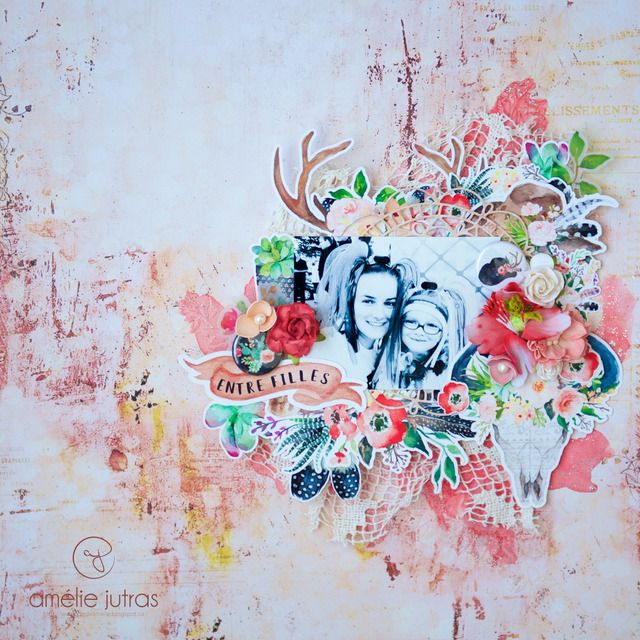 J'ai débuter ma page avec un papier de la collection Love Clippings de Prima Marketing. À l'aide d'un stencil de Tim Holtz, j'ai mis du modeling paste à quelques endroits sur ma page. J'ai ensuite ajouté à l'aide d'un pinceau watercolor, de la Ayeeda Ink "Pink Glitter" de 13@rts. une fois sec, j'ai déposer un bout de napperon de dentelle.
I started my layout with a paper from the Love Clippings collection from Prima Marketing. Using a Tim Holtz stencil, I put some modeling paste at some places on my page. I then added with the help of a watercolor brush, the Ayeeda Ink "Pink Glitter" of 13 @ rts. Once dry, I put down a piece of lace doily.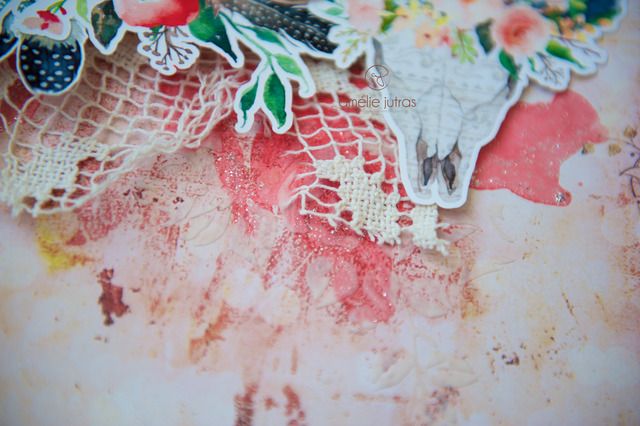 J'ai ensuite jouer avec le kit de découpes. Au total, 18 découpes sous le thème "Western" imprimées sur un papier blanc de qualité ou sur du papier vélin.
I then play with the diecuts kit. In total, 18 diecuts under the theme "Western" printed on quality white paper or on vellum paper.
Dans ce kit, il y avait aussi 4 badges, aussi sur le thème "Western". Finalement, j,ai ajouter quelques fleurs, dont quelques fleurs en forma faites à la main.
In this kit, there were also 4 badges, also on the theme "Western". Finally, I added a few flowers, including some flowers made in handmade forma.
Merci de votre visite!
Thank you for your visit!