Bonjour! Aujourd'hui, je suis sur le blog de Scrap Fx pour vous présenter 2 créations! je vous présente le premier, le 2e suivra demain! Si vous êtes trop pressé, vous pouvez aller sur le blog de Scrap Fx! En février 2015, nous sommes allé passé une semaine à Walt Disney World. Une semaine qui ne fût pas du tout repossante!!!! Clara a fait la transformation en princesse au salon Bibbidi Bobbidi Boutique. Elle a choisi de devenir Jasmine! Ce fût toute une expérience!
Hello! Today, I am on the blog of Scrap Fx to present you 2 creations! I present the first, the 2nd will follow tomorrow! If you're in a hurry, you can go to the Scrap Fx blog! In February 2015, we spent a week at Walt Disney World. A week that was not at all relaxing !!!! Clara made the transformation into a princess at the Bibbidi Bobbidi Boutique. She chose to become Jasmine! It was an experience!
Tout d'abord, j'ai commencé par appliquer une couche de gesso transparent sur toute ma page. J'ai ensuite joué avec différentes couleurs d'encre que j'ai appliqué avec un pinceau. J'ai aussi appliqué du gesso épais à l'aide du stencil "Brick". Pour terminer mon fond, j'ai étampé quelques étampes un peu partout.
First of all, I started by applying a layer of clear gesso on my entire page. I then played with different colors of ink that I applied with a brush. I also applied thick gesso using the stencil "Brick". To finish my background, I stamped some stamps everywhere.
Après avoir jouer avec quelques épaisseurs de papiers et découpes, j'ai mis de la poudre à embosser " Hydrangea Blue Mauve" de Lindy's Stamp Gang sur mes chipboards.
After playing with a few layers of paper and die cut, I put embossing powder "Hydrangea Blue Mauve" by Lindy's Stamp Gang on my chipboards.
Pour finir, j'ai ajouté à ma page des fleurs, une de Prima Marketing et les autres faites à la main par moi-même ainsi que des micro billes.
To finish, I added to my layout flowers, one from Prima Marketing and the other handmade by myself as well as micro beads.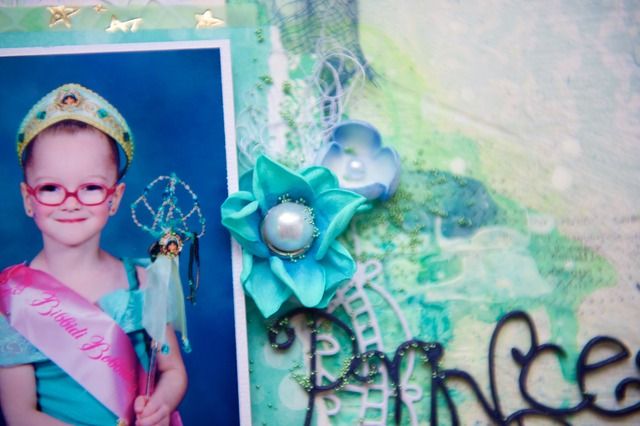 Produits Scrap Fx utilisés:
Merci de votre visite!
Thank you for your visit!