Bonjour, aujourd'hui, je vous présente encore une page de Noël! Mais ça devrait être la dernière avant Noël prochain, promis! Une page créée pour le challenge sur le blog de 7 Dots Studio.
Hello, today, I present another Christmas layout! But it should be the last before next Christmas, I promised! A layout created for the challenge on the 7 Dots Studio blog.
http://7dotsstudio.com/archives/25740
Voici ma page.
Here is my layout.
Pour débuter, j'ai commencé par appliquer une couche de gesso transparent sur un papier de la compagnie 7 Dots Studio. J'ai aussi ajouter à quelques endroits du Texture Paste "White Sand" de Prima Marketing. Avant d'ajouter mes encres, j'ai saupoudré des Art Stones et Mini Art Stone, toujours de Prima Marketing.
To begin, I started by applying a layer of clear gesso on a paper of 7 Dots Studio. I also add to some places of the Texture Paste "White Sand" from Prima Marketing. Before adding my inks, I sprinkled Art Stones and Mini Art Stone, still from Prima Marketing.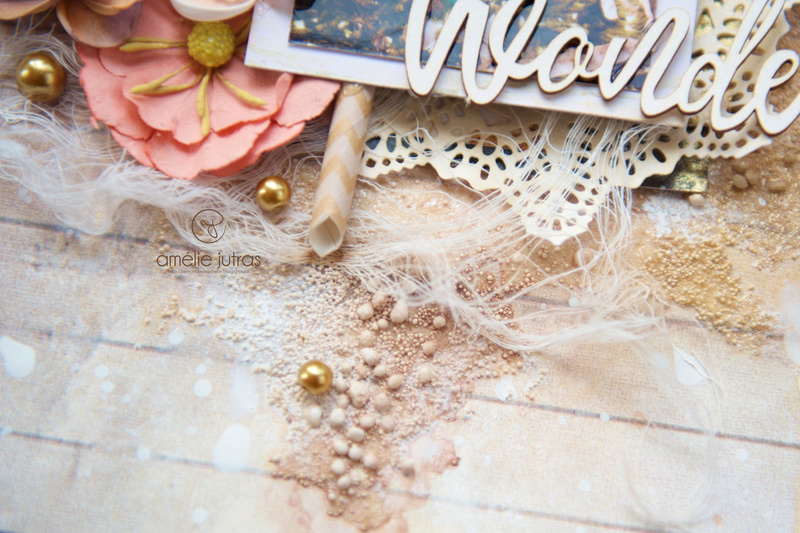 Pour la couleur de fond, j'ai utilisé 3 couleurs d'encre différentes. J'ai débuter avec "Clam Bake Beige" de Lindy's Stamp Gang, ensuite, j'ai utilisé "Pastel Cinnamon" de 13@rts et j'ai terminé avec "Empress Gold" un mist Color Bloom de prima Marketing. J'ai fait quelques touches un peu plus foncé avec un crayon pastel à l'huile de Prima Marketing "Dark Brown".
For the background color, I used 3 different ink colors. I started with "Clam Bake Beige" from Lindy's Stamp Gang, then I used "Pastel Cinnamon" from 13 @rts and finished with "Empress Gold" a mist Color Bloom from Prima Marketing. I made a few touches a little darker with a pastel oil pencil from Prima Marketing "Dark Brown".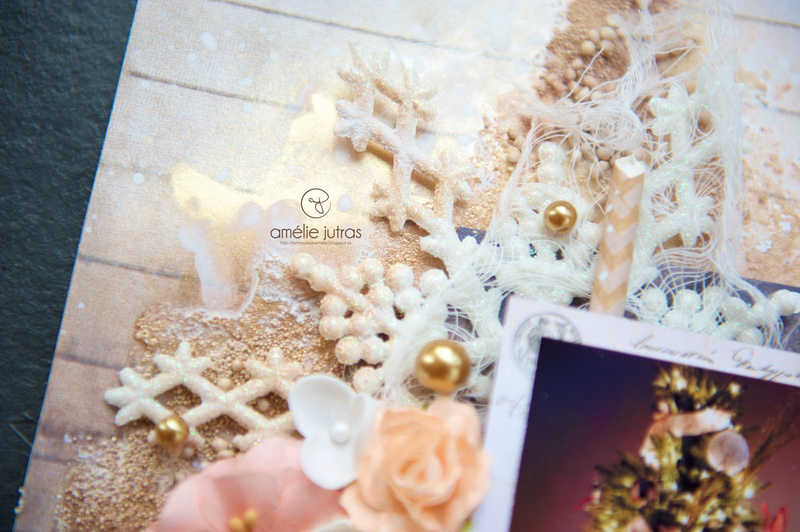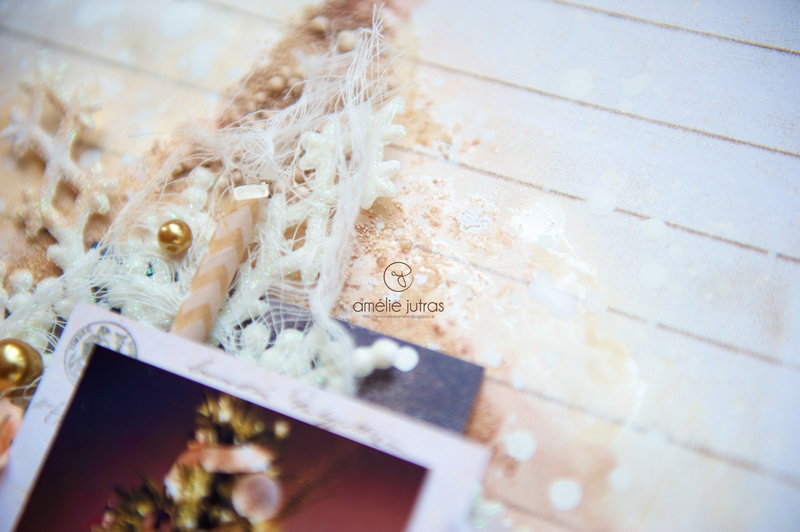 J'ai, par la suite, jouer avec quelques épaisseurs de papier provenant de la collection "Writers Block" de 7 Dots Studio. J'ai ajouté un flocon provenant du magasin d'escompte, du coton fromage et une paille en papier. J'ai aussi ajouté une découpe provenant de die de Prima Marketing.
I then played with some thicknesses of paper from the "Writers Block" collection of 7 Dots Studio. I added a snowflake from the discount store, cheese cotton and a paper straw. I also added a die cut from Prima Marketing.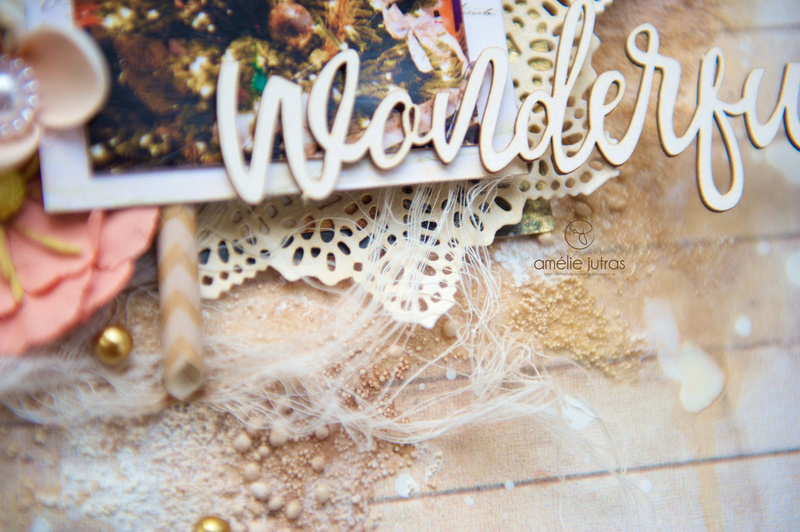 Pour terminer, j'ai ajouter des fleurs Prima Marketing ainsi fleurs faite à la main. J'avais aussi quelques billes de couleurs or qui trainaient sur mon bureau, elles allaient parfaitement bien avec ma page! Comme titre, j'ai utiliser un chipboard de bois de la compagnie 13@rts.
To finish, I have added Prima flowers as well flowers handmade. I also had a few marbles of gold colors that trailed on my desk, they went perfectly well with my page! As a title, I use a wood chipboard from the company 13 @rts.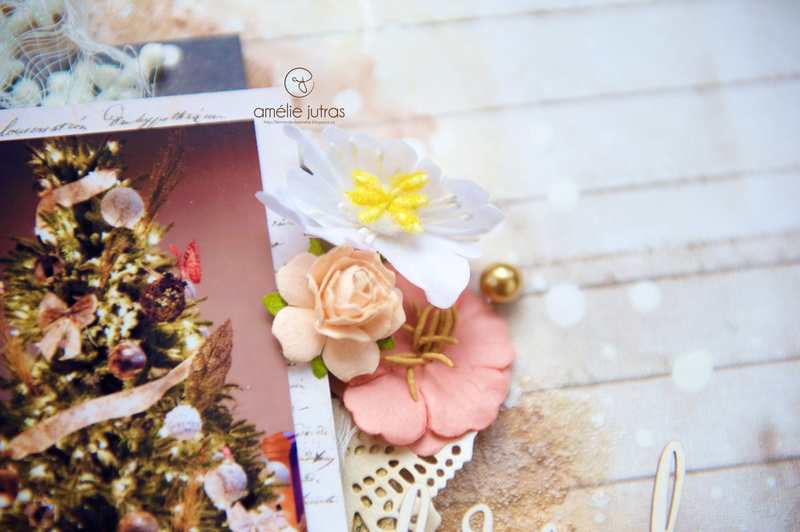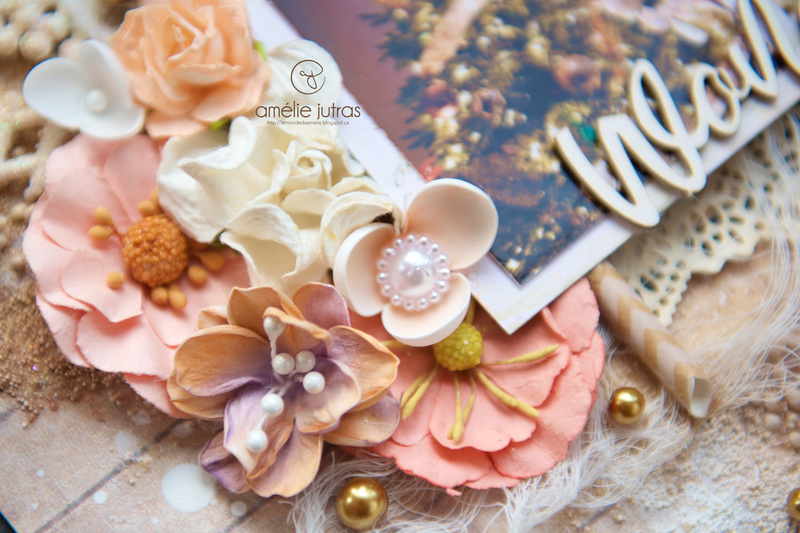 Merci de votre visite!
Thank you for your visit!