Bonjour tout le monde! J'espère que vous avez passer de Joyeuses fêtes de fin d'année! Ici, ce fût relaxe, comme chaque année, mais très apprécié! Aujourd'hui, je suis sur le blog de Scrapbook Tendance, avec la présentation du produit du mois. ce mois-ci, c'est Lindy's Stamp Gang qui est à l'honneur. Vous ne serez sans doute pas surpris si je vous dit que je me suis rapidement porté volontaire! J'adore cette compagnie, j'ai beaucoup de produits d'eux!
Hello everybody! I hope you have a Happy New Year! Here, it was relaxed, as every year, but very appreciated! Today I am on the blog of Scrapbook Tendance, with the presentation of the product of the month. This month, Lindy's Stamp Gang is in the spotlight. You will not be surprised if I tell you that I quickly volunteered! I love this company, I have many products from them!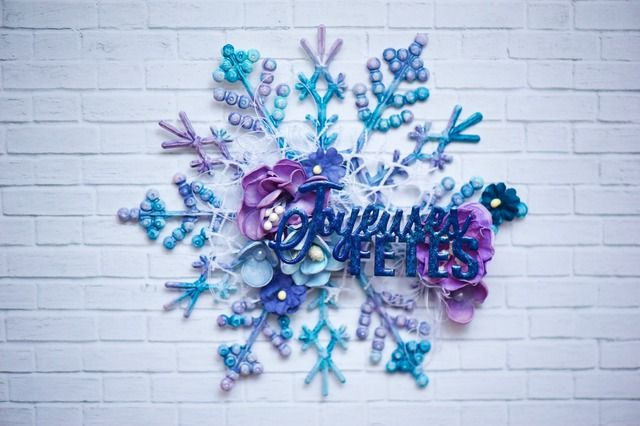 Pour commencer, j'ai acheter des flocons en plastique au magasin d'escompte, que j'ai recouvert de gesso blanc. Par la suite, j'ai jouer avec différente couleurs d'encre que j'ai vaporiser sur mon flocon, en séchant entre chaque couleur. J'ai ensuite utilisé la poudre à embosser "Hydrangea Blue Mauve" de Lindy's Stamp Gang sur un chipboard de la compagnie québécoise Les 2 Miss Scrapbooking.
To start, I buy plastic flakes at the discount store, which I covered with white gesso. Subsequently, I played with different colors of ink that I spray on my flake, drying between each color. I then used the embossing powder "Hydrangea Blue Mauve" from Lindy's Stamp Gang on a chipboard from the Quebec company Les 2 Miss Scrapbooking.
J'ai ensuite placé de la dentelle, du fil blanc et des fleurs faites à la main sur mon flocon. Pour terminer, j'ai collé mon chipboard par dessus mes fleurs.
I then placed lace, white thread and handmade flowers on my snowflake. To finish, I pasted my chipboard over my flowers.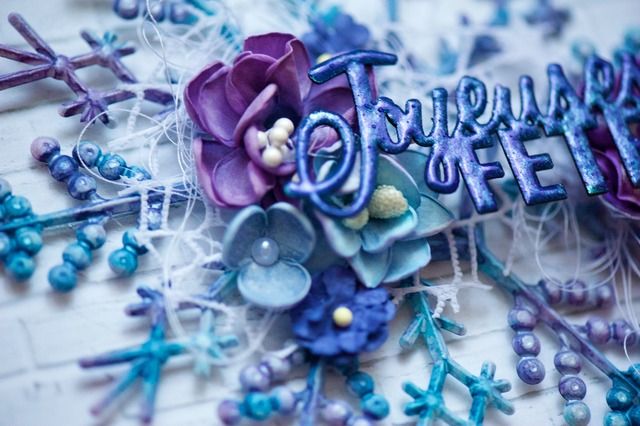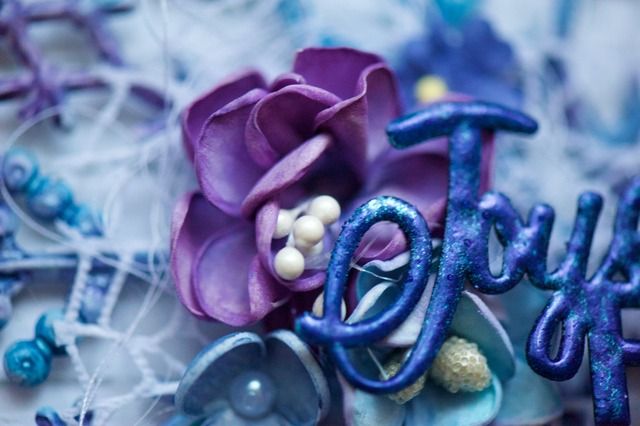 Vous pouvez visionner le pas à pas vidéo juste ici. Bon visionnement!
You can view the video step by step here. Good viewing!
Merci de votre visite!
Thank you for your visit!